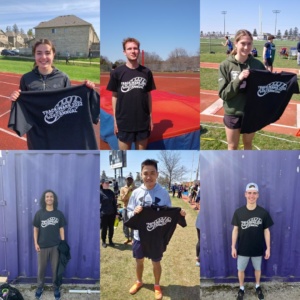 It was great to be back to Track Wars! After a two year absence we returned to this top caliber high school prep meet. LC athletes were out in force competing with their school teams. Our athletes had a dominant performance among all training groups. Pictured here are just a few of our event winners.
Top finishers were Sophia Bahar who won both the senior girls 100m and 300m, Dominik Bahadur who won the novice boys 100m hurdles and 100m and Anna Douma who won the novice girls 1500m and 300m
Other event winners from the meet were:
Steven Mu senior boys triple jump
Sarah Macgillivray senior girls 1500m
Michael Sampson senior boys high jump
Brendan Chapple senior boys 1500m
Nicolas Carson Pedri senior boys long jump
Marcus Kanhi senior boys 110m hurdles
Zack Brown senior boys shot put
Megan Leonard Junior girls triple jump
Isabella Dika Junior girls long jump
Jill Nyman junior girls 1500m
James Porto novice boys 1500m
Well done everyone! What a great start to what's shaping up as an excellent high school track season.
Laurel Creek TFC is the largest track and field club in the Waterloo Region. We have placed dozens of athletes on national and provincial teams and have many national, provincial and OFSSA medalists. If you want to realize your full potential come soar with LC!